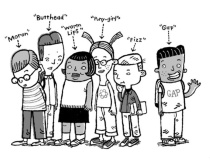 Nicknames are a great way to be remembered. Personally, the name my mother gave me is long and often mispronounced. People call me on the phone (mostly bill collectors) and splatter my name miserably. They do it so badly that my daughter tells them the person they are looking for does not reside here. Now, of course she knows who they are calling, but that is their punishment for not being able to properly pronounce my wonderful, unconventional first name. You will not find my first name in any book giving suggestions for babies' names. I heard, however, that one person copied it and named their child my first name, however, I've not gotten that verified to this day. This being said, I always use my nickname, which is easy to pronounce and spell.
Nicknames are fun. They are brief, exciting, and often pinpoint the person to a tea. One teenager I know has the nickname "Crocodile". He loves the name and prefers to be called by it all the time. Does he look like a crocodile? Maybe and maybe not, but he is contented with it, so what does it matter? Other strange nicknames that I have heard were "Cash Money", "Onion", "Monday", and "Doll". I truly believe that parents and relatives bestow these titles on their children, and somehow they stick through life. Remember the kids you went to school with? Most of the time you don't remember the names "Shawn", "Keith", "Julia" or "Grace", but you do remember "Spider", "Thunder", "Princess" and "Jaybird". I suppose this is why rappers and musicians keep it simple by giving themselves unique nicknames that are easy to pronounce and fun.
I know a lady who has only one name. You might have a first and last name, but she doesn't. She is a realtor and an artist. She told me her parents gave her the name of Anne, but she didn't like it. Perhaps she didn't feel like an Anne. (How does it feel to be an Anne anyway?) She prefers to sign her paintings with one name. So, she went and had her one name legalized. I might add that nobody else has her distinguished six-letter name in this town or area.
People also give themselves nicknames or aliases to avoid trouble. I recall a young man who changed his name for identity purposes. Especially if a name is synonymous with a crime, people use aliases to avoid being apprehended by the law. Your name is important. How many times have policemen pulled people over and taken them to jail because of their names? Many times a person can have the same name, but not be the person sought after.
A pastor once spoke about George Washington, the first president of the United States. George Washington was upset with a cowardly soldier who lacked the courage to fight and stand up for his country. And yet this young man had the same name as President Washington. It is said that the President told the young man in a stern voice, "Young man, either change your ways, or change your name!" Your name is your credential.
Nowadays people use nicknames and user names to identify themselves on the Internet. That, too, is fun, because a person can be anyone they want to be. Most of the time the user name (which is a type of nickname) reveals how they feel about themselves. Names like "Greatness98" or "BestKind", "Joyous07" or "Serenity66" give you a clue into what kind of person the Internet user might be."
I believe people give themselves nicknames for many reasons, but whatever the reason, as long as they are satisfied and like to hear that name repeatedly, let them have it the pleasure. The greatest thing about nicknames is that people can change them anytime they want, and still be appreciated for who they are. I think the idea of giving yourself a nickname can add zest to your life. Nicknames are creative, refreshing and fun!
By: Toni Doswell